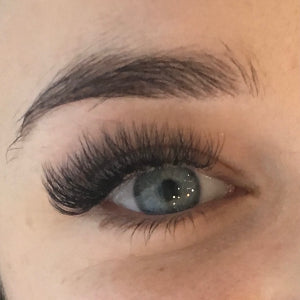 LEARN VOLUME EYELASH EXTENSIONS
PRIVATE COURSE

3 DAYS

MANNEQUIN HEAD PRACTICE

DEMONSTRATIONS

3 MODELS

PRINTED MANUAL

VOLUME LASH EXTENSION KIT

CERTIFICATION
LEARN YOUR LASH EXTENSION SKILL FROM THE BEST
ALEX IS A LASH EXTENSIONS SPECIALIST - MULTI CERTIFIED WITH 7+YEARS EXPERIENCE, AND IS A CURRENTLY PRACTICING LASH ARTIST.
THIS COURSE INCLUDES - 3 DAYS HANDS ON EDUCATION:
CLASSIC LASH CURRICULUM
WHAT ARE VOLUME LASHES?

GROWTH CYCLE

EYE ANATOMY

EYE AND HEAL DISORDERS

HEALTH AND SAFETY

LASH PRODUCT INFORMATION

CONSENT FORMS

CHARACTERISTICS OF AN IDEAL FAN

ADHESIVE AND RETENTION FOR VOLUME LASHES

FAN PLACEMENT

ISOLATION

VOLUME TWEEZERS

CREATING THE PERFECT FAN

APPLICATION PROCEDURE

EYE STYLING

FILLS AND REMOVAL

AFTERCARE

KEY POINTS TO SUCCESS
VOLUME LASH CURRICULUM:

CHARACTERISTICS OF AN IDEAL FAN
ADHESIVE USE FOR VOLUME LASHES


FAN PLACEMENT


ISOLATION


VOLUME TWEEZER


CREATING THE PERFECT FAN

BUILDING A LASH EXTENSION BUSINESS:
HOW TO START YOUR BUSINESS AND GET LICENSES AND HEALTH APPROVED

SOCIAL MEDIA TIPS FOR ADVERTISING YOUR BUSINESS

WEBSITES

REFERRAL PROGRAMS

DISCOUNT ON ALL FUTURE BROWTAB ORDERS
CONTINUED SUPPORT IS ALWAYS OFFERED FOR ALL STUDENTS.  WE WANT TO HELP YOU GROW AS AN ARTIST AND AS A BUSINESS!
THIS COURSE IS CREATE FOR SOMEONE WITH EXPERIENCE IN THE LASH EXTENSION INDUSTRY- CLASSIC LASHES. IF YOU ARE NOT SURE IF THIS COURSE IS RIGHT FOR YOU, PLEASE FEEL FREE TO CONTACT US.
THIS COURSE IS HOSTED IN CALGARY, ALBERTA, CANADA.  PLEASE CONTACT ME IF YOU ARE INTERESTED IN HOSTING A COURSE IN YOUR LOCATION.
$750 NON-REFUNDABLE DEPOSIT REQUIRED TO HOLD YOUR SPOT.  REMAINDER OF THE BALANCE IS DUE 1 WEEK PRIOR TO THE COURSE.