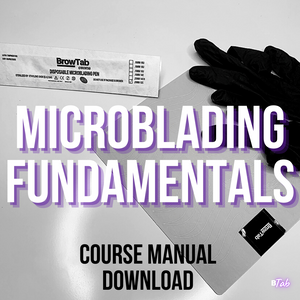 FUNDAMENTALS OF MICROBLADING MANUAL
ADD BIZ SET UP TO AL RECEIVE BROWTAB BSCHOOL'S BIZ SET UP MANUAL TO KICK START YOURS OR YOUR CLIENTS MICROBLADING BUSINESS
DIGITAL DOWNLOAD
EVERYTHING YOU NEED TO KNOW TO KICK START YOURS OR YOUR STUDENTS MICROBLADING CAREER!
MANUAL COVERES ALL TOPICS IN DEPTH:⁠
SKIN ANATOMY⁠
HEALTH AND SAFETY ⁠
DISINFECTION + STERILIZATION⁠
MICROBLADING TECHNIQUE⁠
MICROBLADES⁠
BROW MAPPING⁠
COLOR THEORY⁠
MICROBLADING TOOLS⁠
MICROBLADING STEP BY STEP PROCEDURE⁠
APPOINTMENT + CLIENT CONSULTATION⁠
ENHANCEMENT SESSION + TOUCH UPS⁠


AFTER PURCHASING THIS COURSE- YOU WILL RECEIVE AN EMAIL TO CREATE AN ACCOUNT TO ACCESS TO THIS COURSE.  IF THIS IS NOT YOUR FIRST BROWTAB BSCHOOL COURSE IT WIL BE ADDED TO YOUR BSCHOOL COURSE DASHBOARD (BE SURE TO USE THE SAME EMAIL ADDRESS)

Microblading Fundimentals Download
Wow! I can't express enough how much I love this Brow Tab download. It was the perfect guide to help me get a kick start on my very own in person fundamentals. This is defiantly great for the seasoned artist or someone who didn't get the best fundamentals in Microblading. TONS of info for a download, you won't regret this purchase. I would highly recommend over and over again!!!