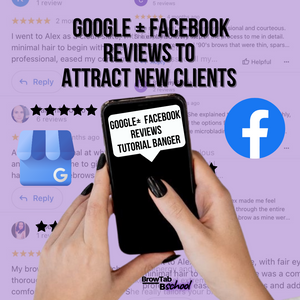 ARE YOU LOOKING FOR GUIDANCE IN YOUR BUSINESS?

DO YOU NEED SOME MOTIVATION TO TAKE THE NEXT STEPS IN YOUR BUSINESS?

DO YOU NEED TO GET BACK TO THE BASICS IN YOUR BUSINESS?

DO YOU FEEL OVERWHELMED IN YOUR BUSINESS?

UNSURE WHAT STEP TO TAKE NEXT TO BOOK MORE CLIENTS?

DON'T SIT AROUND WAITING FOR CLIENTS TO COME TO YOU!
GO OUT AND BUILD THAT BUSINESS, THAT CLIENTELE OF YOUR DREAMS! 

USE THE GOOGLE + FACEBOOK REVIEWS STRATEGIES
TO ATTRACT MORE CLIENTS
TO BOOK MORE CLIENTS
TO MAKE MORE MONEY
TO HIT NEW GOALS
TO GROW TO NEW LEVELS
THIS TUTORIAL INCLUDES:

HOW TO SET UP YOUR GOOGLE BUSINESS PROFILE
HOW TO SET UP YOUR FACEBOOK BUSINESS PROFILE
HOW TO GET THE REVIEW LINK TO SHARE WITH CLIENTS FOR BOTH GOOGLE AND FACEBOOK
HOW TO FLAG A NEGATIVE REVIEW ON GOOGLE
AFTER YOUR PURCHASE YOU WILL RECEIVE AND EMAIL TO CREATE OR LOG INTO YOUR BSCHOOL ACCOUNT, AND ACCESS YOUR DASHBOARD AND TUTORIAL. IF YOU ARE ALREADY A BSCHOOL STUDENT, BE SURE TO USE THE SAME EMAIL ADDRESS SO ALL YOUR EDUCATIONAL CONTENT WILL BE UNDER THE SAME DASHBOARD.