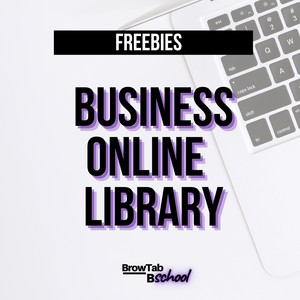 NEW EBOOK ADDED! WRAP IT UP!
WANT TO GROW YOUR BUSINESS?
NEED SOME RESOURCES TO HELP WITH THIS?
BSCHOOL HAS GOT YOU- WITH THE ONLINE FREEBIE LIBRARY
FREE ACCESS TO 8 BSCHOOL MINI COURSES, EBOOKS, AND DOWNLOADS

I WANT YOU TO SUCCEED! I WANT YOU TO BUILD YOUR BUSINESS!
INCLUDES:

GOAL SETTING BANGER TUTORIAL
SHOWING UP EBOOK
BOOKED UP EBOOK
ONLINE PRESENCE CHEATSHEET
CLIENT FOLLOW UP TRACKER 
DIGITAL PRE-APPOINTMENT FORM
ALT TEXT MINI COURSE
MINI INSTA TUTORIALS 
HEALING DIAGRAM
NEW: WRAP IT UP EBOOK
ADD TO CART TO GAIN ACCESS TO THE BUSINESS ONLINE LIBRARY FOR FREE. YOU WILL RECEIVE AND EMAIL TO CREATE OR LOG INTO YOUR BSCHOOL ACCOUNT, AND ACCESS YOUR DASHBOARD AND LIBRARY. IF YOU ALREADY HAVE A BSCHOOL ACCOUNT- USE THE SAME EMAIL AND THE LIBRARY WILL BE ADDED TO YOUR DASHBOARD.
AS NEW EBOOKS, DOWNLOADS AND MINI COURSES ARE ADDED TO THE FREEBIE LIBRARY THEY WILL BE AUTOMATICALLY ADDED TO YOUR DASHBOARD- NO NEED TO RE-ENROL
Amazing!
The Freebie Business Library is amazing! As a new microblading artist and business owner, I've learned so much from this course! I'm definitely going to continue using this course as I grow within my business.